Grip-ology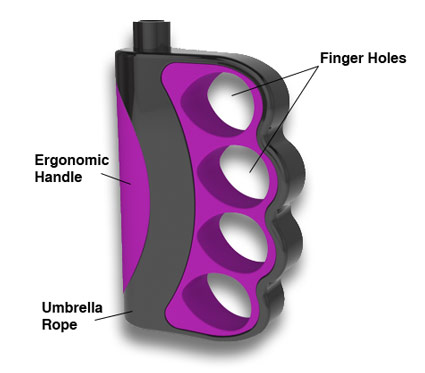 GRIP ENGINEERING
The focal point of the Brolly umbrella is its grip. It has two distinguishing characteristics: finger holes and an ergonomic handle.
Finger holes
There are four (4) finger holes on the Brolly grip that provides a firm, comfortable and strong hold, which you will not find on inexpensive umbrellas. Each finger hole is lined with rubber material to provide maximum comfort and flexibility. And, the outside of the finger holes are made of ABS plastic to reinforce the strong Brolly grip.
Ergonomic handle
The Brolly grip features an ergonomically-designed handle consisting of rubber material that conforms to your palm to provide maximum comfort. The rest of the handle is made of ABS plastic -- strong enough to hold up in wet and windy conditions.