BROLLY WAS BUILT OUT OF LOVE
for innovation, quality craftsmanship, simple design, and most importantly for people that want more out of their everyday products. REDEFINING CHOICE
When it comes to rain umbrellas and dog leashes, your options are very limited. You choose between over-priced, over-marketed products that don't live up to your expectations and low quality products that don't last very long. We knew there had to be a better way, so we created Brolly products as a return to the essential: great products at a reasonable price.
■ ■ ■ ■
GREG EDSON
I have always had a passion for coming up with ideas and acting on them. From starting soda and candy businesses when I was 10 years old to running online marketing companies in my 20's and 30's, that passion has continued to strengthen over time. I tried to build the Brolly brand to reflect my passions and values; affinity for simple design, appreciation of quality-made products and a belief that you can make a difference in the lives of others.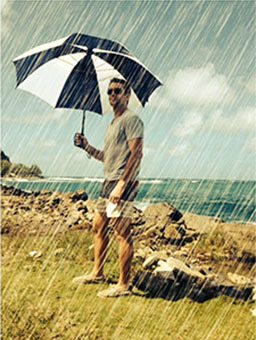 SARA EDSON
I have always had a love for design, especially the little details. From developing a t-shirt line to making fashion videos to conducting model photo shoots, my passion is always growing stronger. And, this passion is shown in every Brolly product and packaging, which features a one-of-a-kind design never seen in the rain umbrella and dog leash industries. For me, it's all in the details and Brolly products are no exception.